Successfully Launched was "Tomorrow Stars of Zhongguancun", the First Supply-Chain Financing Programme for Innovative High-tech Startups in 2023
---
HOME

zgc group

2023-08-15

Clicks:52
Font size:bigmediumsmall
On August 9, "Tomorrow Stars of Zhongguancun" was successfully launched as the first Supply-Chain Financing Programme for Innovative High-tech Startups in 2023. The bond was issued with a maturity of 2 years and an interest rate of 5.5%. Three subsidiaries under the ZGC Development Group—ZGC Sci-tech Guarantee, ZGC Sci-tech Leasing, ZGC Leading Finance—will provide financing services for high-tech startups via the business model of "Investment + Credit enhancement + Fintech".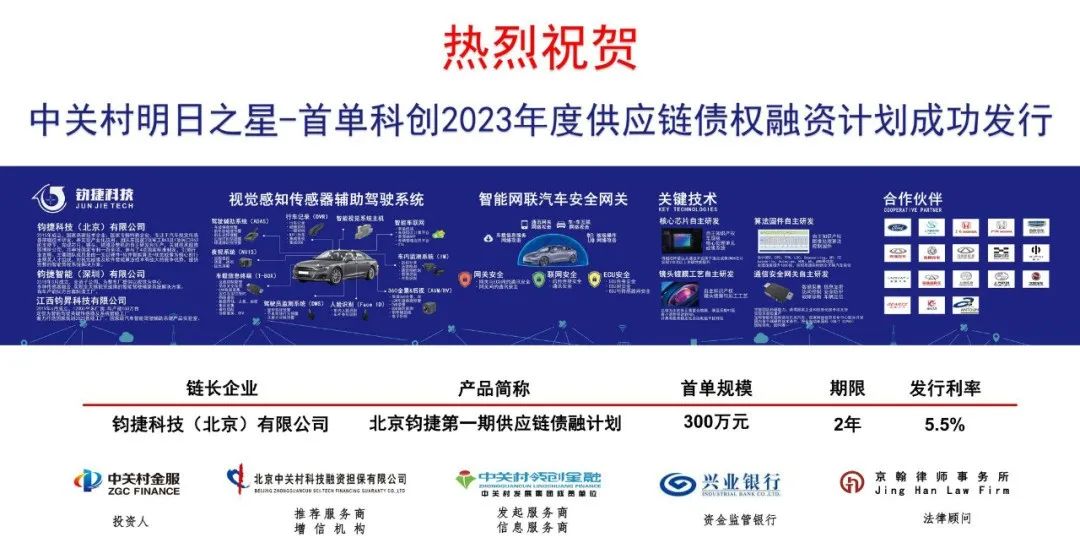 In August 2022, Beijing Financial Industry Development Plan During the 14th Five-year Plan proposed to "support the Beijing Financial Asset Exchange to build an inclusive national supply-chain financing platform".Against this background, the Group and Beijing Financial Asset Exchange worked closely to launch the first Supply-Chain Financing Programme for Innovative High-tech Startups.
The company that obtained the first supply-chain debt financing is Junjie Technology (Beijing) Co., LTD., a national high-tech enterprise and a "specialized and sophisticated" firm founded in 2015. It is specialized in automotive intelligent vision system and key technological breakthroughs, providing complete intelligent driving assistance safety system solutions for car makers and help them with industrial application.Junjie Technology obtained innovative direct financing for its supply chains and expanded its financing channels. Presenting its information to members of financial institutions in the interbank market also further enhanced the company's reputation and perception.
In the future, the Group will continue to explore innovative financing models, further enrich fintech services, and build the fintech service ecosystem, finding out new pathways to empower innovative high-tech enterprises.The Group will fulfill the potential of the supply-chain finance to facilitate the development and innovation of companies, fully supporting the construction of Beijing International Scientific and Technological Innovation Center.
---
Previous page:Xiong'an New Area • ZGC Science and Technology Park Officially Inaugurated
Next page:Four Parks under the Group Recognized as Beijing's Characteristic Industrial Clusters of SMEs of 2023