The first "New Industry 50 People Forum" Was Successfully Held in Beijing
---
HOME

ZGC GROUP

2021-11-09

Clicks:915
Font size:bigmediumsmall
On October 23, under the guidance of the Executive Committee Office of Zhongguancun Forum, the first "New Industry 50 People Forum", sponsored by ZGC Development Group and hosted by ZGC Industrial Research Institute, was successfully held at the Exhibition Center of Zhongguancun National Independent Innovation Demonstration Zone.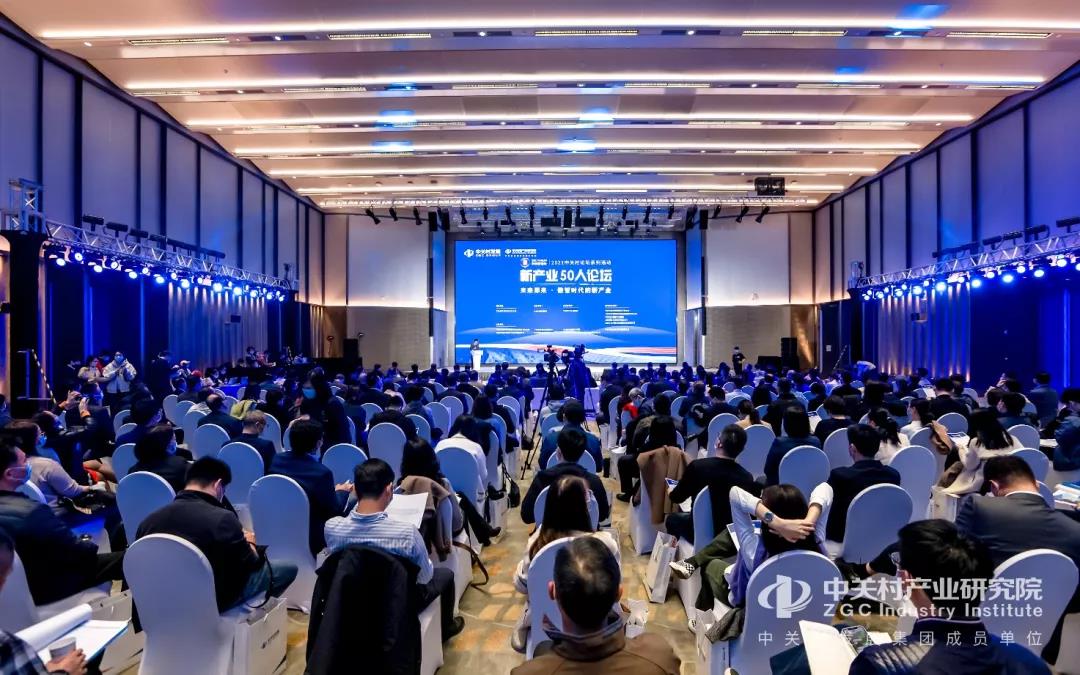 More than 200 representatives from new technology firms, cutting-edge innovation enterprises, investment institutions, financial institutions, professional service agencies and medias and so on attended the event, and nearly 80,000 people watched the live broadcast online.
As part of a series of events of "2021 Zhongguancun Forum", "New Industry 50 People Forum", in the theme of "The oncoming future: New Industries in the Age of Digital Intelligence", was designed to build a platform for idea exchanges, element interactions and sharing development, to enrich and invigorate the ecosystem of innovation and entrepreneurship, facilitate transformation of new technologies, lead the development of new industries.
The forum focused on three topics: digital intelligence, quantum, emission peak and carbon neutral. At the forum, industrial and technical experts from home and abroad, leading enterprisers, new entrepreneurs, industrial organizers and service providers discussed the trend of industrial development, stimulated new industrial ideas, pooled industrial elements and resources, and facilitated the landing of new industries.
As industrial clusters are evolving into innovation communities, industrial organizations are sorely in need of digital intelligence to adapt to the diversification, complexity and systematicness of innovation ecosystems.
In line with the overall layout designed by ZGC Development Group, ZGC Industrial Institute launched a program to empower industrial organizations with digital intelligence, along with a lot of other ecological partners, such as ZGC Sci-tech Services, ZGC Software Park, Beijing IP and etc.
The "Digital-intelligence Program for Industrial Organizations" aims to provide industrial organization solutions, solve key challenges, and combine regional characteristics and industrial trends to iterate and upgrade industrial organizations. Specifically, it includes seven digital tools: digital intelligent diagnosis, digital intelligent monitor, digital intelligent patent navigation, digital intelligent element docking, digital intelligent operation, digital intelligent business selection, and digital intelligent scenario.
ZGC Industrial Research Institute actively explores the mode of university-enterprise joint training of innovative talents and promotes industry-university-research cooperation.
Under the witness of the participants, ZGC Industrial Research Institute signed an agreement with Renmin University of China, Beijing Normal University, Central University of Finance and Economics, University of International Business and Economics, University of Chinese Academy of Science (Zhongdan College), Equipment Manufacturing Development Research Center under China General Institute of Machinery to co-build an industry-university-research cooperation base for the New Industry 50 People Forum.
Looking forward, the "New Industry 50 People Forum" will set up communication channels for new technologies and industries, promote interaction of production elements, provide support and services for the building of an international scientific and technological innovation center, contributing to the transformation of new technological achievements and the development of new industries.
---
Previous page:Fitch Affirmed ZGC Development Group's A Rating
Next page:The First Phase of "2021 Asset-backed Bonds of ZGC Sci-tech Leasing" Was Successfully Established